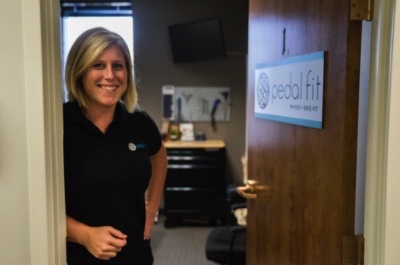 Bike Fitting has always seemed like a high art.  There is definitely something to it, and a few bike fitters seem to have it but most don't for some reason. It must be hard to know how to put an asymmetrical body built for walking and running upon a perfectly symmetrical bicycle which requires perfect circles of power deployed in a bent-over, aerodynamic position without compromising the ability to breathe.  And that would be the easy scenario with a perfect body that has no dysfunctional neuromuscular patterns, no muscle imbalances, no adaptations to an old, bad bike fit, unresolved injuries,  or compensated weaknesses.  Well, it's the rare cyclist or triathlete who feels a perfect connection to the bike.  If you are like me, you've been tinkering with your setup for years, and reluctantly sought out experts once in a while only to continue tinkering. 
Surely there is a better way. Recently, I've been hearing about the existence of bike fitters who are experts in the human body first, and then experts in fitting a bike to a body. When I discovered that a friend of mine, Brian Heber, was getting a bike fit from a doctor of physical therapy, I just had to tag along. Listen in as Brian and I talk to the physical therapist bike fitter, Natalie Collins, PT, DPT, COMT, Cert. FDN, BikePT, owner of PedalFit in Denver, Colorado. Natalie and Brian talk about their experience working together to resolve Brian's pain and increase his power via a combination of targeted exercises for Brian and a few small but important changes to his position on his bike. Brian was even able to keep his aggressive handlebar position!
I think you'll be amazed at how much improvement is possible by making a few, perfect changes.
Natalie Collins, PT, DPT, COMT, Cert. FDN, BikePT
(720) 460-1106