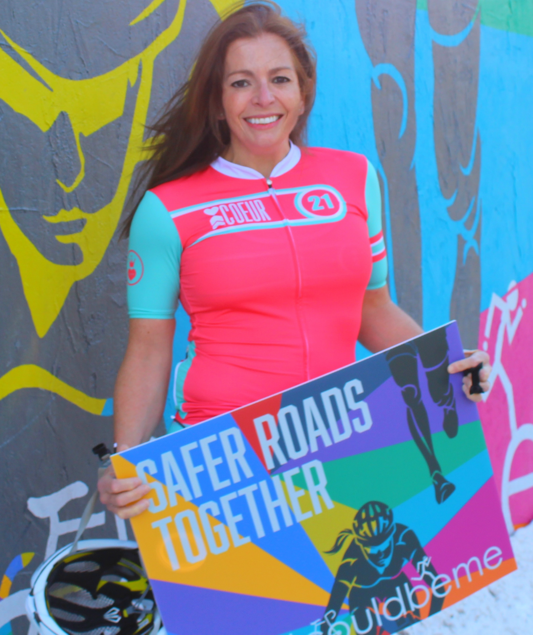 Glen and I are joined today by Inspirational athlete, Triny Willerton, who is the founder of ItCouldBeMe (itcouldbeme.org), a non-profit on a mission to change the relationship between drivers and vulnerable users of the road by re-humanizing cyclists and creating a movement of mutual responsibility and respect to make roads safer together.
Just a few years earlier, Triny decided to get back into shape after gaining weight during multiple pregnancies, and changed the course of her life. She met her husband, Nigel, in a race; she progressed to being a high-performing age group triathlete with a goal of qualifying for the IRONMAN Triathlon World Championship in Kona, Hawaii. On the cusp of achieving her goal, she was nearly killed by a speeding driver while she was training on her bike.
Her story was already inspirational, but now Triny had only 5-months to recover from immobility in her hospital bed to race in Kona as the representative of Women for Tri. With her signature determination, Triny achieved her dream of racing in Kona.
With this experience, her passion for bike safety led Triny to found, ItCouldBeMe, a non-profit working to improve road safety for cyclists.
To find out more, please visit us at www.itcouldbeme.org
To join us as an ambassador:
https://www.itcouldbeme.org/ambassador-program/
Coeursports:
https://www.coeursports.com/collections/new-arrivals
Newton Running:
https://www.newtonrunning.com
Headsweats:
https://www.headsweats.com/collections/it-could-be-me
Rudy Project:
https://www.rudyprojectna.com/
Bicycle Colorado
https://www.bicyclecolorado.org/
Rachel Joyce and Dana Platin
workshops :
http://www.thewarmiproject.com/reinas
Cycliq Upride :
https://upride.cc/
Secretary of Transportation- Pete Buttigieg
https://www.transportation.gov/office-of-secretary
Articles:
https://303triathlon.com/tag/triny-willerton/