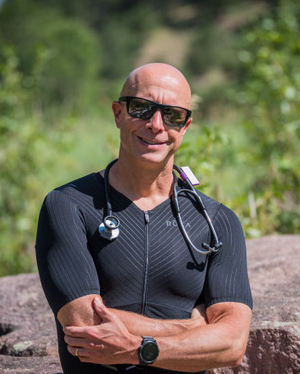 TriDoc
Jeff Sankoff is the TriDoc, an emergency physician, triathlete and USAT and Ironman University certified triathlon coach.
Jeff is an accomplished triathlete with more than 75 70.3 finishes including six World championship finishes and six Ironmans including one World Championship finish. He has been a medical contributor to Triathlete, Inside Triathlon and Beginner Triathlete magazines and websites; and now produces the TriDoc podcast, a bi-weekly show covering health and wellness issues as they relate to the endurance athlete.
CREDENTIALS
Board Certified Emergency Physician
USAT Level 1 Coach
IRONMAN University Certified Coach
LifeSport mentored coach
Experienced triathlete; national age group team member.
Founder, Tri-Doc Podcast
Regular contributor to Training Peaks and other publications
Discussion Outline
Training Secrets from the TriDoc — Jeff Sankoff
Consistent Training is the key to endurance success
Reverse J Curve — do enough work but not too much
HRV – not that useful yet
Strength training is super important
No supplements
Lots of tech for measuring effort in workouts
Alcohol impairs performance and recovery
Biggest mistakes of masters athletes (beware shortcuts)
Eat food on the bike (not just fluids)
Mostly plant-based. Some fish too.
Sleep is a challenge but important
Training is a key stress management tool
Age is a state of mind (you are as old as you think you are)
Keys to athletic longevity:
Keep a youthful mindset
Keep weight under control
Keep moving, always
Find something you love, and just do it.
Contact info for TriDoc
www.tridoccoaching.com www.tridoccoaching.com
www.tridocpodcast.com www.tridocpodcast.com
http://twitter.com/triathmagtridoc
https://www.facebook.com/tridoccoach