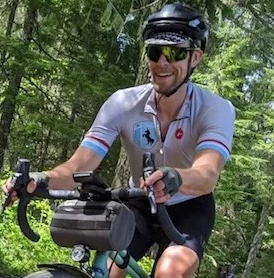 The journey to happiness always includes a bicycle. And a bicycle that fits you is the most important part.
A bike is a marvelous extension of the human body. Riding a bike is a like full-body meditation. When you do it right you are immersed in the present….lost in the pleasure of your body working well. That is, as long as your bike doesn't cause pain. Some people never have problems but others have to struggle to get the right combination of gear, body function, and set up. For those of us in that last category, a good bike fitter is priceless.
So why is good bike fitting so hard to come by? It turns out that it isn't hard if you know what to look for. Kevin Schmidt knows bikes, and he knows bodies. He's a good friend to the cyclist.
I have to admit that I didn't think this episode would apply to me. I mean my bike fits me already. But after my discussion with Kevin, on my very next bike ride, I noticed I had to scoot back on my saddle. Suddenly I was reminded of Kevin's advice about saddle tilt. I got off my bike and looked at my saddle for the 1000th time, and it looked good. But I decided to make the smallest possible adjustment to my saddle tilt, and BINGO! Suddenly my bike felt 100% better, and no more sliding. Yeah, you should listen to Kevin.

Kevin Schmidt, PT, MSPT, CMP, Bike Friendly Physio and owner/founder of Pedal PT
Kevin Schmidt is a physical therapist, clinical bike fitter, bike adventurer, and entrepreneur. Since 2007, Kevin has dedicated himself 100% to living the 'bike life' and has not driven a car to a workday in over 12 years. He Founded Pedal PT in 2012 in Portland, Oregon, which became America's very first Physical Therapy clinic ever to be certified as a 'Gold-Level' Bike Friendly Business from the League of American Cyclists. In his pursuit of 'Bike Friendly Physical Therapy" Kevin has written and been featured in numerous articles and speaking events on Bike Fit and managing the cycling population, and is also the creator of the 'Pedal PT Online Academy', and "The Portlander" Bike Fit training stand. Kevin lives in southeast Portland, OR with his family. 
Links:
Outline of Talk
Kevin's journey from PT to Pedal PT and commuting to work by bike for 16 years.
A bike fit is not always about buying new gear. This is why getting a bike fit from a person who understands the human body and physical mechanics makes too much sense to ignore. But find a PT who lives for bikes and can use a wrench.
Pain is not a normal part of cycling. The solution can be equipment/ bike size related but mostly (80%) it's about some body issue that needs a tweak to the existing bike parts that can move or some rehabilitation of some muscle imbalance or other body issue.
Priorities of bike adjustment

Get the pedals and cleats right first. Feet first because the foot affects seat height and handlebars reach. Don't have cleats too far forward.
Saddle position. The biggest problem is saddle tilt nose down causes slipping forward which changes everything as well as pressure on hands. Flatter saddles are better for most people, and wider saddles for more upright positions and problems with undercarriage pain and numbness.

Foot pain. Pain in bony part of foot, move cleat back. Numbness? Shoe too narrow. Hotfoot? Too much room; fill with an insole.
The usual client is getting physical therapy AND needs a bike fit. Clients often need some know-how on using a bike well to minimize problems. How to shift gears properly and when. The need to stand up periodically to relieve the tissues BEFORE then pain starts. Don't try to look like a 20 year old professional cyclist.
How to find a good bike fitter? Obviously a PT who is trained to fit bikes is a good bet. A PT who is not a trained bike fitter os a bad bet. Any bike fitter who is quick to sell gear is likely to be a problem. A bike fitter in a bike shop is trained to upsell, which costs extra $ and might not solve the problem.
DIY can work with patience. Give adjustments time to work; it won't necessarily be immediate even if correct. And checkout Kevin's YouTube videos.
First thing is to get the bike fit into the green zone. A safe place. Then tweak.
Good exercises for the cyclist. The more time you ride, the more time you need training reversing the sitting shape. Backwards bending, arms behind the back. Superman's for strengthening the low back. Suitcase carry to strengthen core ability to resist twisting. Kettlebell swings. Planks aren't that helpful.
Don't buy into the BS seriousness of cycling. Riding a bike is fun and should make you happy. Don't work with bike fitters or bike shops who intimidate and have a my-way-or-highway attitude.
Want to support the show?
If you are enjoying WiseAthletes, a great way to support the show is by leaving a review on the Apple Podcasts. It only takes a few minutes and helps more people find the episodes.
And, checkout the discount codes provided by show guests who offer unique products that I or Glen use. Click here: DISCOUNT CODES
Thanks.